There is no translation available.

Projekt pt. "Pogłębienie współpracy administracji partnerskich powiatów poprzez inwestycje w transgraniczną sieć dróg" Wnioskodawcą projektu jest Powiat Słubicki wraz z Powiatem Oder – Spree. Dofinansowanie projektu to 3.316.054,09 EUR, wartość całego projektu to 5 062 678,00 EUR. W ramach projektu zostanie przeprowadzona przebudowa drogi znajdującej się w Powiecie Słubickim o nr 1254F Nowe Biskupice – Rzepin o długości 8,75 km oraz bliźniaczej drogi znajdującej się w Powiecie Odra – Szprewa nr K6755 o długości 3,75, która łączy autostrady A12 i A10. Wybudowana zostanie również ścieżka rowerowa pomiędzy miejscowościami Gajec - Rzepin.
Poniżej położenie drogi w sieci dróg.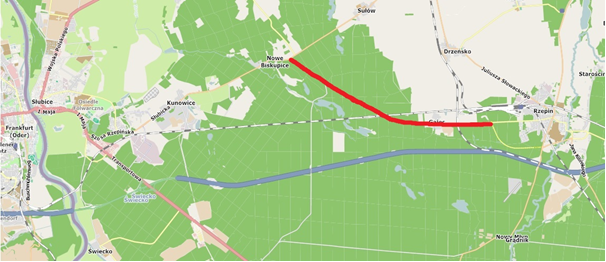 Grupą docelową projektu są przede wszystkim mieszkańcy pogranicza polsko-niemieckiego ( Pow. Słubicki i Odra – Szprewa ok. 250 tys. osób). Ponadto grupą docelową stanowią turyści oraz przedsiębiorcy. W ramach projektu zostaną wypracowane wspólne mechanizmy służące do promocji regionów. O nowe obszary poszerzy się również współpraca służb ratunkowych, Policja i Straż Pożarna zyska alternatywną, bezkolizyjna drogę co znacznie ułatwi dotarcie na miejsce zdarzenia.

Projekt skierowany jest również w sposób bezpośredni do pracowników administracji powiatowych, organów stanowiących poszczególnych jednostek samorządu terytorialnego, tj. partnerskich powiatów oraz wspierającej projekt Gminy Rzepin, a także instytucji i organizacji zaangażowanych w rozwój turystyki (np. Stowarzyszenie Turystyczne Pojezierze Odra – Szprewa, Nadleśnictwo Rzepin) oraz rozwój gospodarczy na pograniczu polsko-niemieckim (np. Kostrzyńsko-Słubicka Specjalna Strefa Ekonomiczna, Güterverkehrszentrum/Centrum Logistyczne Freienbrink). Wspólna realizacja zadania oraz wymiana doświadczeń umożliwią pracownikom wzajemne poznanie własnych kompetencji i zadań.

Projekt jest w pełni zgodny z celem szczegółowym programu, ponieważ poprzez przebudowę dróg znacznie poprawi się stan infrastruktury drogowej, a dzięki temu zwiększona zostanie dostępność transgraniczna. Przebudowane drogi mają istotne oddziaływanie na obszar wsparcia, ponieważ prowadzą nie tylko do węzłów autostradowych po obu stronach Odry, stanowiąc alternatywę dojazdu do nich, lecz również do dworca kolejowego w Rzepinie, który ma duże znaczenie zarówno w transporcie pasażerskim, jak i towarowym.